At Patina Faktum you will find unique tables that can accompany you for a lifetime. Our idea is to offer you furniture that has that special kind of attraction that only antique pieces bring with them. Due to this inviting effect, such dining tables have all the prerequisites to become a focus of your domestic life. Our furniture is inspired by the rural furniture style of the 19th century and seems to come from this time! And yet you decide: the dimensions of the tabletop, the table height, the colour, the choice of table legs, the installation of drawers, and much more. Numerous possibilities result in a great variety of designs.
oak – solid wood – custom-made – characterful – any measurement
Every table is a unique piece: We manufacture to your order, individually taking into account your wishes! The result is a real one-of-a-kind!
Detailed replicas of antique dining tables: Inspired by the rural furniture style of the 19th century, we build according to old craft traditions.
So: An "antique" table – in the size and color that suits you.
Workmanship: Solid wood throughout. Top and frame made of robust oak. Type of wood of the legs as desired. All handwork!
Why "Unique"? The unmistakable antique character gives our tables something very individual. Each table, so to speak, with a credible story and personality. Patina, signs of wear, hand-planed phases, warm changing colors are absolutely authentic and attractive. A process developed after decades of experience makes this convincing "aging" possible through many artistic manual work steps.
The antique appearance is thus imitated, but in no way feels wanted or clumsily rustic because it is so rich in detail and varied. A piece of furniture that invites you to long evening
Click here to open our: price list and order form
An "antique" table according to your specifications!
If you would like to combine the expressive individuality of antique furniture with your very special requirements, our convincing replicas offer a unique solution!
It makes sense: With replicas of this type, we combine the charm of antique pieces with the advantages of current processing standards. That means enjoyment and functionality at a high level.
Find more Examples here: Tables – Gallery
"Our table is there and not a moment goes by in which we do not look at our "good piece" with great joy and enthusiasm. It turned out so wonderful! That is exactly how we had always imagined our table. You just want to hug him … "
Find more opinions on our customer-feedback side
Which design do you prefer?
The look of your long-requested table is totally up to you, if you like!
Decide for yourself:
and more…
Almost every measurement is available!
Those are our standards (which can be alternated by you):
Table heigth = 77,5 cm

Table thickness =

2,5cm
Tabletop = from 40x40cm to 300x120cm (e.g.)

Apron width =

8cm or 10cm

Leg room at least=

67cm or 65cm
Customized tabletop overhang: Longitudinal side about 4cm – 9cm / front face 6cm – 12cm
Customized table leg width – optional: 7x7cm / 8x8cm / 9x9cm
Price overview below – or here: Price list and order form
Your style! Your table!
Our tables are designed with great attention to detail. Everyone sees the high degree of individuality at first glance. Everything about these unique pieces tells of a home decor apart from the usual series products. The antique surface with all its features: traces of use, sanded shapes, slightly varying dimensions and convincing patina – all of this gives the impression of a piece of furniture that has lived history behind it. That is why the table looks effortless with its very own presence, just as a single piece with this certain "self-confidence". Otherwise a characteristic of antique originals. In the vicinity of a well-established home interior – with, for example, modern elements – such a piece of furniture always has its own rights. In contrast to "off the shelf" furniture, a dining table of this type speaks the language of a different point of view. This individuality can be "experienced", so to speak: seeing – perceiving shades – keeping your eyes on details again and again – feeling – stroking the surface – feeling scars and small depressions … This is how the promise of long, cozy evenings emerges for many! So if you like such an aesthetic, you will have fun at a dining table from our manufactory!
You have numerous design options. Whether it is the design of the top, the frame or the color scheme – make your dream furniture a reality! We would be happy to advise you!
You choose:
Our colors appear lively and antique due to their natural interplay. We can send color and material samples on request. You can find more information here: our detail page for colors and surface treatment> Details: Color shades
With the selection of the table leg you can also decide on the stylistic character of your table: simple, rustic or a little bit of elegance? Basically, we offer 12 different variants, which can, however, be changed by adapting the cross-section or further individual design. You can find more information about table legs here> Details: Table legs tableleg details
Do you like our single board structure – or are you more inclined to a seamless, smooth board? Would you like a thicker top that gives the table a heavy rusticity? Or quite the opposite: a surrounding frame brings stylistic elegance. There is more to all of these options on this page> Table tops details
You can continue to complement your table sensibly: for example, with drawers in the frame or extension panels to be able to extend the table if necessary. Decorative elements or a footbridge transform the table into a small work of art according to your taste! You can find more about the extras here> Details extras
---
What do our table cost?
Take a look at a few examples:
All prices include the statutory value added tax in Germany (19%). The prices describe dining tables with table tops in a single board structure, without extras but including table legs (table legs in price category 1 made of softwood). Additional options such as drawers or extension panels have an impact on the price. Intermediate sizes are possible. A detailed price list is available here. Businesses (e.g. restaurateurs and interior decorators) can call up special conditions here.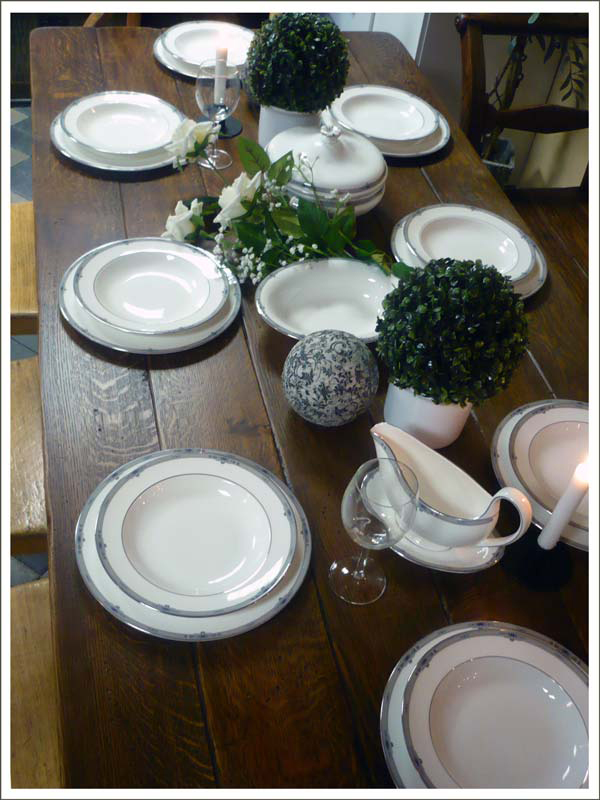 ---
More interesting information about our tables:
Thank you for your interest and would be happy to advise you! If you would like advice over the phone, please call us on +49 5231 570 000. Or do you have the opportunity to visit our showroom? Then you are of course very welcome!