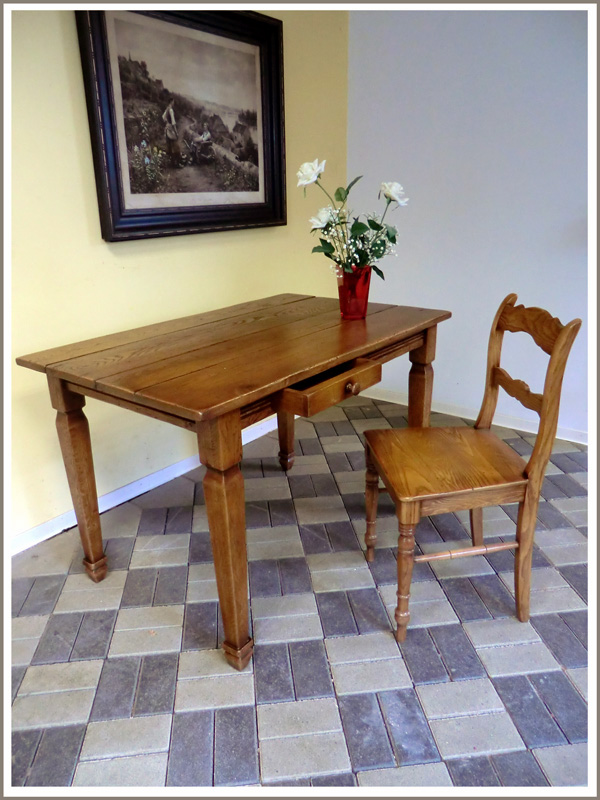 At Patina Faktum you will find unique furniture that will accompany you for a lifetime. Our idea is to offer you tables, chairs, benches and more that have that special kind of attraction that only antique pieces bring with them. Consistently handcrafted by carpentry, every single piece is unique! Our furniture is inspired by the rural furniture style of the 19th century and seems to come from this time! And yet you decide on many design features: the dimensions, the color, the choice of table legs, the installation of drawers, and much more. Numerous possibilities result in a great variety of designs for dining tables, benches, chairs and more! 
The "patina" factor: The unmistakable antique character gives our furniture something very individual. Each piece, so to speak, with a credible story and personality. "Patina" – that is the used-looking surface with traces of use, lively changing colors and worn forms. These details look authentic. A process developed after decades of experience makes this convincing "aging" possible through many artistic manual work steps.
The antique appearance is thus imitated, but in no way feels intentional or clumsily rustic because it is so rich in detail and varied. A piece of furniture that invites you to long evenings!
An "antique" piece of furniture according to your specifications!
If you want to combine the expressive individuality of antique furniture with your very special requirements, our convincing replicas offer a unique solution!
It makes sense: With replicas of this type, we combine the charm of antique pieces with the advantages of current processing standards. That means enjoyment and functionality at a high level.
Our furniture is designed with great attention to detail. Everyone sees the high degree of individuality at first glance. Everything about these unique pieces tells of a home decor apart from the usual series products. The antique surface with all its features: traces of use, sanded shapes, slightly varying dimensions and convincing patina – all of this gives the impression of a piece of furniture that has lived history behind it. That is why the table or chair appears effortlessly with its very own presence, just as a single piece with this certain "self-confidence". Otherwise a characteristic of antique originals. In the vicinity of a well-established home interior – with, for example, modern elements – such a piece of furniture always has its own rights. In contrast to "off the shelf" furniture, a dining table of this type speaks the language of a different point of view. This individuality can be "experienced", so to speak: seeing – perceiving shades – keeping your eyes on details again and again – feeling – stroking the surface – feeling scars and small depressions … This is how the promise of long, cozy evenings emerge for many! So if you like such aesthetics, you will have fun at a dining table from our manufactory, for example!