Our furniture manufacturer specializes in the production of extraordinary solid wood furniture with a convincing antique appearance. We are a second-generation family-run craft business. Frankly, there is a small, dusty workshop behind our website! What we build, however, is valued throughout Germany and beyond!
Handwork – consistently!
We are not exaggerating when we say: handwork according to old tradition is very important to us! Everything we manufacture is really made from the carefully selected raw woods in our workshop. We even make chairs entirely by hand! Where else can you find that?
Our company was founded in 1972. We are based in the pretty Detmold in Lippe – a traditional location in connection with furniture production. At that time, Bernd Schwarz began restoring antique furniture in a converted garage. Little by little, the workshop outgrew the space, which was too tight, and the restoration also included the manufacture of increasingly sophisticated replicas (imitations) of antiques. The company soon had regular customers and made a name for itself in the region through high-quality work. In 1992 the new workshop building was built. From here the customers became more and more supraregional.
In 2012, Rüdiger Schwarz followed his father, after they had been perfecting the manufacture of handmade furniture with antique surfaces together for many years. The dining tables, chairs and benches were now offered online to a wide range of customers under the new name "Patina Faktum". In the meantime, we do not only deliver throughout Germany, but also to many European countries – especially to Switzerland – and even to the USA.
We are still a family business: A whole series of "Schwarzens" take on a wide variety of tasks: Rüdiger Schwarz – management, advice, creative surface / Lukas Schwarz – production, creative surface / Charlotte Schwarz – customer contact , consulting / Beata Schwarz – Accounting. The team is decisively supported by Mr. Thorsten Kalous – manufacturing table legs and extras and Mr. Nikolaj Unruh – manufacturing tabletops and parts.
We are looking forward to your visit! You are very welcome! The best thing to do is to arrange your appointment with us! Contact
Here is a look at our workshop and exhibition building in Detmold, Gehrenkampstrasse 5.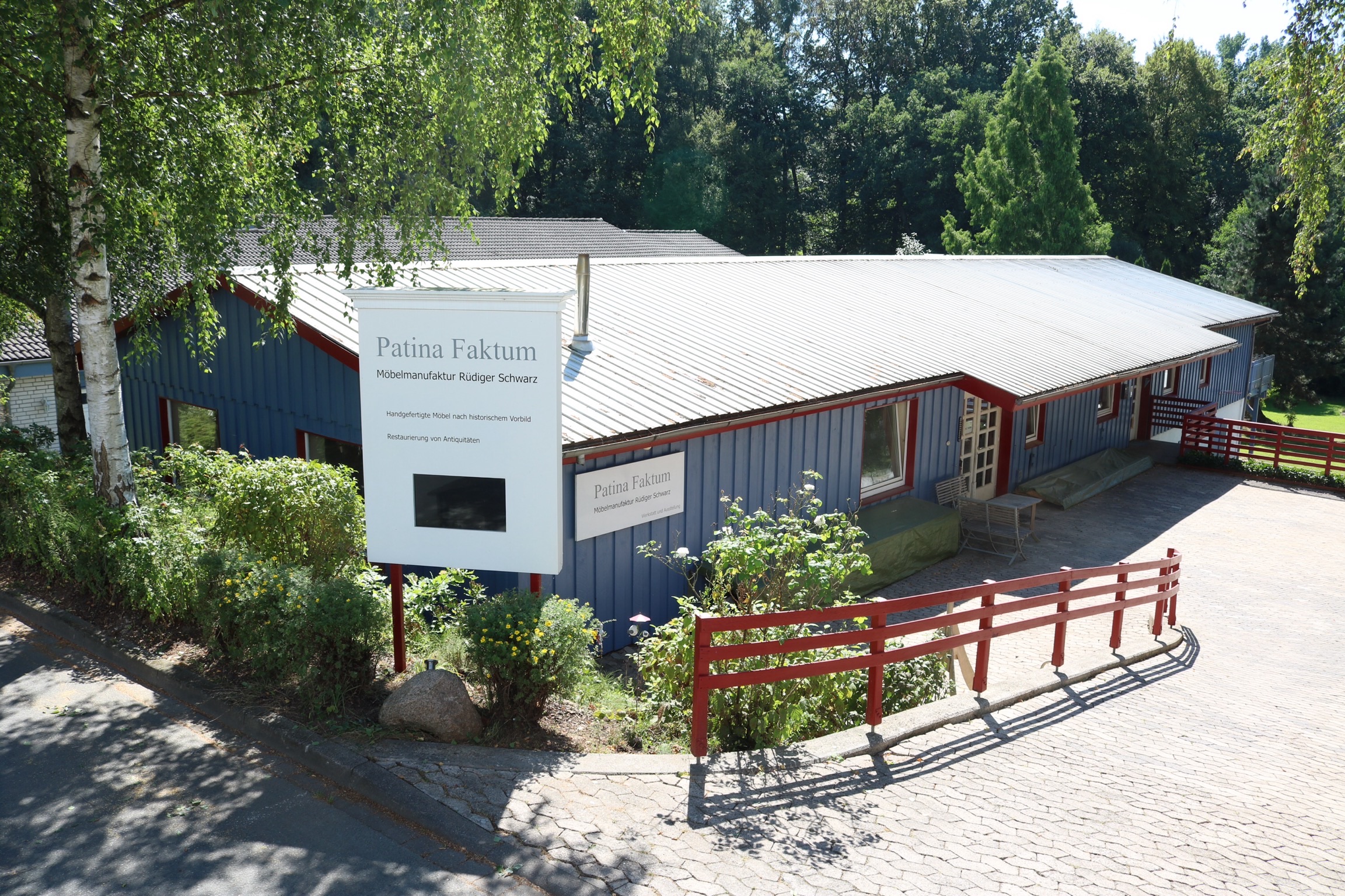 Our Showroom
If you want to make your way to us, you have the opportunity to visit our small but fine exhibition. We like to take a lot of time to develop ideas with you and make the best choice for you. Many customers have made long journeys themselves and said after their visit that the effort was worth it. Often it is about nothing less than THE long-awaited dream furniture, such as the dining table which, as a family table, will soon become the focus of domestic life …
We are looking forward to your visit! You are very welcome! The best thing to do is to arrange your appointment with us! Contact